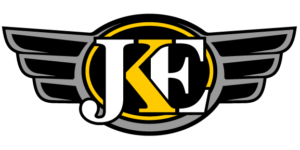 JKE Works is an aviation restoration company built on a foundation of family and authenticity. With a history dating back to the mid-1960s, JKE Works continues to cement itself as one of the best aviation restoration companies in the world. Thanks to world-famous projects like the Gee Bee Z replica and the Jimmie Allen restoration, many people in the aviation industry know the Kimball name.
Over the course of three generations and five decades, JKE Works has been restoring antique airplanes to their former flying glory. While many of their planes are now housed in museums, they are all able to be flown. Every JKE Works restoration project has full flying capabilities and uses as many authentic materials and techniques as possible. By bringing together modern engineering and manufacturing tools with vintage techniques, JKE Works is able to produce historically accurate restorations in a fraction of the time it took to build the original aircraft.
Family has always been a big part of the structure at JKE Works. It started as a simple hobby in the 1960s, and inturned into a true family business just a few short years later. Now, three generations of Kimballs are working together to produce some of the best restoration craftsmanship in the world.
Jim and Jane Kimball began their careers in aviation over 50 years ago. As recipients of the Wright Brothers Master Pilot Award, and the Charles Taylor Master Mechanic award, they have dedicated their lives to the industry of aviation. Jim & Jane were also pioneers of the world famous Sun 'n Fun Airshow in Lakeland, Florida. The first project was a basket case Staggerwing Beech. Jim always wanted to own a staggerwing and this project would fill that desire while his new path developed. Jim and Jane's son Kevin also started working with them from a young age. In the 1980s Jim and Jane purchased a grass strip airport in Mount Dora, FL. With a total land acreage of 60 acres, they were able to build their home on the property to live and work there full time.
Kevin, the son of Jim and Jane, has worked alongside his parents for decades. After getting an engineering degree from UCF, he used his skills to elevate and innovate the family business with expert engineering techniques. Kevin was an integral part of many famous projects like the Beechcraft Staggerwing for Barron Hilton, three Model 4 Stearmans, and the Gee Bee Z replica. Kevin and Robin married in 1989 and had two children; Kallin and Kaitlyn. Kevin and Robin raised their children on the same 60 acre property less than a mile away from the hangar that housed the family business.
Kevin's dream was to raise a family of his own he could share the business with. So, from day one, his son Kallin was at the shop watching and learning. Kallin is a pilot with over 500 hours and an A&P certificated mechanic. He has spent almost his entire life in the aviation industry. He started working with his father and grandfather before he was 10 years old, and always planned to continue working at the family business. He and his wife, Rachel, have welcomed the newest member of the Kimball family, Hazel. They travel the country as a family in Jim's 1964 Bonanza.